05 Mar

How to Select Best Interior Design Company/Firms in Gurgaon

Everybody loves having a home that is neat and stylish. And people also love to renovate their homes to update themselves and become happier. It is a must to renovate your home within the frame of 15 to 20 years. Choosing the best interior designers in Gurgaon to renovate your home or office is one of the challenging tasks. And here are the most simple and useful seven steps you need to follow while choosing the interior designer in Gurgaon or interior design company in Gurgaon.
Steps to Choose the Best Interior Design Firms in Gurgaon
Step 1: Recognise Your Methodology
Assess what you want to design or renovate and set your priorities. Make sure you have enough time and money to renovate your home by an interior designer in Gurgaon. Before choosing the interior designer, you must know your way of approach.
Every interior design company in Gurgaon has its own style, and you must select the one who is ready to design according to your method. Take your own time to go through some websites and choose an interior designer. It is the primary step to select the best interior designers in Gurgaon, or else you will not be satisfied to the fullest extent.
Step 2: Set A Financial Estimate
It is a must to set your budget before starting the remodelling or renovation of your home or office. Some of the interior design firms in Gurgaon will charge a fixed amount for their work, and some others will charge based on milestone completion while they are working.
Usually, you have to spend on some essentials like the roof, foundation, water issue, siding, windows, demolition, structural carpentry, insulations, and more. Divide your budget for each room and kitchen separately as the designing work differs between room and kitchen.
Step 3: Choosing The Best Designer
It is the main step for designing your place. Interior designing is a blend of creativity, ideas, and culture. Space planning is an essential part of designing work. The best interior designers in Gurgaon will give you a design blueprint according to the estimate and square feet. It will help you understand the usage and the proportion of the room.
Collect blueprint designs from more than 5 or 6 interior design company in Gurgaon and compare them. Once you have selected some of the designers, it is time to meet them to solve your queries. You can meet them either face to face or communicate through a phone call. Most interior designers do not charge for this session. Only then you will get a clear-cut idea to choose the best interior design firms in Gurgaon.
Step 4: Evaluate the Designer
When you have a meeting with an interior designer, inquire about their past works, qualifications, duration of the project, and new ideas. Thus you will have a clear view of the designer whether they are talented or not. We should also monitor their patience at work. The one who follows your path of designing within your estimate is the best interior designer in Gurgaon.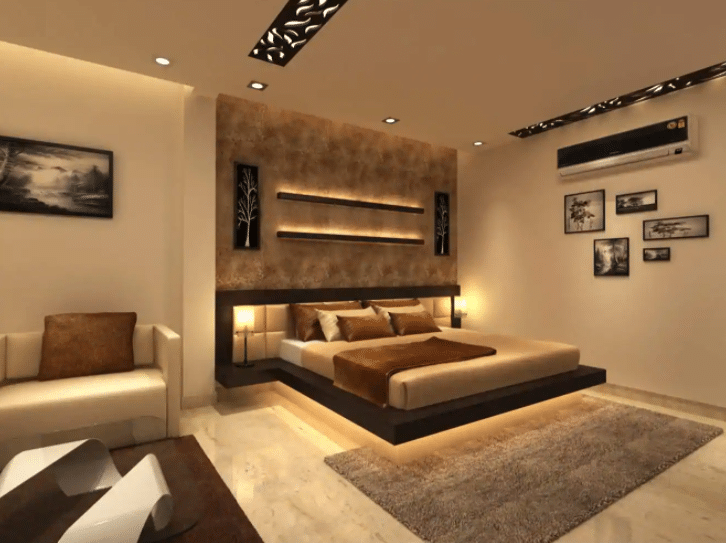 Step 5: Check the Ethics of The Interior Designer
A designer should have creative and innovative techniques in various departments such as electrical, plumbing, and planning for false ceilings. Flooring design and choosing the right material for the floor are also important. Choosing interior colors, home accessories, and furniture are also the necessary work of interior design firms in Gurgaon.
Step 6: Include All Crucial Tasks in Designer's Work List
The work of the best interior designers in Gurgaon should be attractive and different from the other designers' work. Its work should be of good quality, and its work must last for a long tenure. Their work should be waterproof, stain proof, and the colors and designs should not fade quickly. Another important quality is to keep the interior of an office or home free from pest attack.
Step 7: Agreement
After selecting a perfectly qualified interior designer in Gurgaon after viewing their design, it is time to fix a proper budget. As per the budget, you can expect appropriate quality in their work. Further, it is time to have a deal with the designer with a perfect agreement. The agreement process should be done legally. The agreement must consist of a quotation that states an actual estimate of the complete job and details regarding advance payment.
In the agreement process, the salary of the interior design company in Gurgaon, time duration of the work, budget of the work, and the salary of the workers should be disclosed properly. And at last, when you are hiring, you must promise to pay the last 10% percent of the amount only after the completion of the job.
BERYL: Beryl India is one of the creative architectural and interior design firms in Gurgaon involved in various construction of innovative buildings. Beryl India was founded in July 2010. This is a firm of talented personnel who are the best professionals in architecture and interior designing. They usually involve in the work of new constructions as well as the renovation of a building. This firm ensures effectiveness and efficiency in resource utilization.
This is the premium company that excels in constructing, designing, and renovating:
Residential interiors
Kids study room interior
Bedroom interior designs
Office space design
Commercial space designs
Restaurant interior
Clinic interior
Playschool and kindergarten interior
Retail showroom
Commercial store interior
Corporate office interior
Besides being well-experienced, this company has earned fame as the best interior design company in Gurgaon.
Conclusion
Interior designing is a crucial element for every constructive work. In the case of a business firm, it is necessary to employ the top interior designer in Gurgaon because it is one of the secret elements in attracting their clients. Even in the case of a home, interior designing is crucial to maintain peace, harmony, and integrity. In spite of this importance, a person must be careful in hiring a good interior designer. On the whole, Beryl India is one of the best interior designers in Gurgaon.